Port of Grimsby to get £25m expansion of docks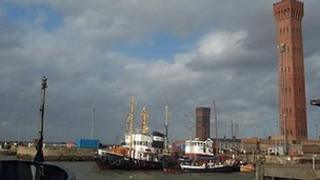 Grimsby docks are to be expanded with a £25m investment.
The docks owners, Associated British Ports (ABP), said the money would be used to build a new terminal to handle an increase in car imports.
The Port of Grimsby is the UK's busiest car-handling port, with 635,000 vehicles passing through the docks in 2010.
The government has announced the creation of an enterprise zone in the port.
The ABP money will be spent on building new jetties on the River Humber to allow larger vessels to berth.
Currently the lock gates, built in 1852, limit a ship's cargo size to a maximum of 800 cars. The new facility will handle boats carrying up to 3,000 vehicles.
Work will start early in 2012, with the first ships expected to berth at the new facility in autumn 2013.
The new enterprise zone (EZ) was announced by Chancellor George Osborne in his Autumn Statement.
The 11 hectare (27 acre) site will aim to attract companies in the renewable energy industry to the port.
Councillor Mick Burnett, deputy leader of North East Lincolnshire Council, said: "The EZ will help to address the current situation at BAE and also provide local employment and business generation opportunities.
"There is also the potential to utilise the council's Change Programme to provide the necessary training and upskilling support to enable local people to benefit from the employment and business creation opportunities this will present."