Hull tidal barrier saves city from record 4.9m high tides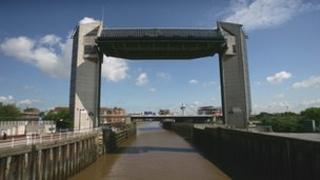 Hull's tidal barrier has stopped a record high tide from flooding the city, the Environment Agency has said.
A tide of 4.946m (16ft) high, the highest in 14 years, was recorded on Sunday evening.
The barrier protected more than 17,000 properties in Hull from flooding.
The high tide was caused by a low pressure over the North Sea between Scotland and Norway, forcing huge swells along the north-east coastline.
Richard Maxted, the duty monitoring and forecasting officer from the agency, said: "Officers closed the barrier at around 17:00 GMT, which kept out a tide of 4.946 metres. Early indications suggest that this is the highest since our records began in 1996 - the next highest was in 2005 at 4.85m.
"After the flood of 1969 there was a need for something to be done to protect the city of Hull, and last night the Hull tidal barrier justified itself again."
In Whitby the tide reached 3.59m (11ft) high and some shops were affected by the surge.
The Environment Agency said: "A small number of commercial properties were affected in Whitby. We issued a flood warning yesterday [Sunday] to give people notice that flooding was anticipated for harbourside properties on New Quay Road, Church Street, and from Bridge Street to Eskside Wharfe.
"The warning was taken off this morning."
The Hull tidal barrier is a 212 tonne (215,000 kg), 98 ft (30m) wide gate which is supported between two towers that house the operating machinery.
It is closed about 12 times a year and has protected the city from the effects of more than 30 high tidal surges since it opened in April 1980.
The barrier was refurbished last year at a cost of £10m.