Rathlin Energy to drill for Yorkshire oil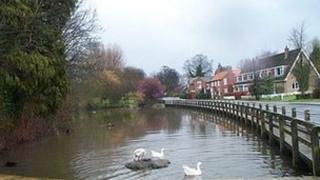 A Canadian energy company is proposing to drill for oil reserves below rural villages in East Yorkshire.
Rathlin Energy is planning to sink a one-and-a-half mile deep borehole in the ground between Bishop Burton and Walkington.
It has submitted plans to East Riding of Yorkshire Council.
A report to the council's planning committee recommends that a decision is deferred while highways officers look at the plans.
If the officers raise no concerns about the impact on local roads the report recommends the plans are approved at a later meeting.
The drilling, on agricultural land, would take place 24 hours a day and continue for five weeks.
'Great potential'
The council report says if commercial quantities of petroleum are found, Rathlin Energy would suspend the operation and submit a further planning application for the production of the fuel.
Tom Selkirk, a spokesman for Rathlin Energy, said: "We've evaluated the existing oil control. We've combined that with the existing seismic data that's available.
"We like the looks of what we see in terms of the nature of the rocks that's present in the sub-surface and the nature of the structure that's present there. We feel that there may be potential to have some conventional hydro-carbon resources there."
The company said it has no plans to extract reserves using the hydraulic fracturing or fracking method, which involves the high-pressure fracturing of rocks with a mixture of water, sand and chemicals.
Fracking is believed to have caused two minor earthquakes in Blackpool earlier this year.
Professor Ernest Rutter, a geologist at Manchester University, thinks "Britain needs to become more self-sufficient in gas and oil" and expects more planning applications to submitted in the future.
He said: "The potential for securing UK energy supplies on home ground is so great that we really can't turn our backs on it."