Reece Mastin: Australia X Factor winner plans Scunthorpe gig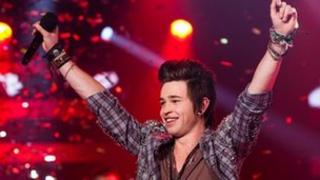 A teenager from Scunthorpe who won the Australian version of The X Factor has said he wants to return to the town to perform.
Reece Mastin, 16, was crowned winner of the competition on Tuesday and his single is top of the iTunes chart in the country.
The teenager, who turns 17 on Thursday, said: "I'm feeling good. It's not a bad birthday present at all.
"I'm trying to come back to Scunthorpe and perform a few shows there."
Reece moved to Australia from North Lincolnshire with his family six years ago.
Kylie 'incredible'
He said he had not been back to the UK for a "long time", although he kept in touch with his grandparents and uncle, who still live in Scunthorpe.
His relatives followed his fortunes on the show and hosted a party as they watched him win the final.
Reece got a standing ovation for his duet with Kylie Minogue on The X Factor.
He said: "Kylie was incredible. She was a beautiful person as well so it was an honour to sing with her.
"The single just went number one on iTunes over here so that's been really good."
The teenager will go into the studio in the next few days to start recording his first album.