Humber Bridge £330m debt 'could be written off'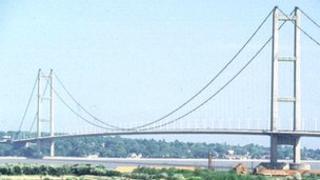 A "considerable amount" of the Humber Bridge's outstanding £330m debt could be written off by the coalition government, an MP has said.
MPs from East Yorkshire and North Lincolnshire met Department for Transport representatives on Tuesday for a review of the bridge tolls.
Cleethorpes MP Martin Vickers said afterwards he was "reasonably confident" some debt would be cleared.
The move could reduce the toll charge from £3 per car to £1.50.
Mr Vickers said: "I'm reasonably confident in predicting there will be a considerable write off of the debt, which will allow a decent reduction in the toll."
The bridge has an outstanding debt of £330m after it was financed with a £150m government loan, which rose due to interest.
MPs believe the amount of debt to be wiped will be announced in Chancellor George Osborne's autumn statement on 29 November.
Mr Vickers also said there would be a restructuring of the Humber Bridge Board to allow for a "more focused organisation".
The current board consists of up to 25 representatives from the four local authorities: Hull City Council, North Lincolnshire Council, North East Lincolnshire Council, East Riding of Yorkshire Council.
Under the restructuring this number could be reduced to eight.
'Positive options'
In a joint statement, local transport minister Norman Baker and economic secretary to the Treasury Chloe Smith said: "We are clear that the current finances of the Humber Bridge are unsustainable, for historic reasons.
"We are looking at positive options to ensure that the future financing of the bridge is sustainable for both local communities and national government.
"We also attach importance to close engagement in the management of the bridge from local elected representatives and business people, working together.
"We expect to make a further statement on our conclusions in the near future."
A document for an invitation to tender has been submitted by the Humber Bridge Board for plans to refurbish the toll booths at an estimated cost of more than £3m.
Humber Bridge Board said the toll booths were in need of "essential system maintenance".