Shadow defence secretary Jim Murphy backs BAE workers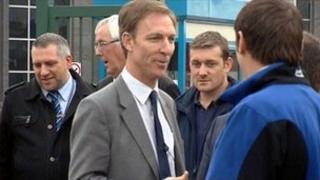 The shadow defence secretary, Jim Murphy, is backing nearly 900 workers facing redundancy at BAE Systems in East Yorkshire.
BAE Systems announced plans to cut the jobs at its Brough site to "ensure its long-term future".
Mr Murphy said the decision was wrong and that he would be calling on the company to reconsider its plans.
On a visit to the site, he said the workforce was "world class" and had a "right to be listened to".
Mr Murphy was in Brough on Wednesday, where he met staff facing redundancy.
"Brough has an enormous history in the manufacturing of military aircraft and I don't think it's just about a remarkable history, it should also have a big future," the East Renfrewshire MP said.
"So the government's got to look and see what it can do about changing some of its orders round and changing its approach to defence investment and spending, and the company has to look again at its plans.
"I think it's for the company to show a bit of flexibility. We cannot have belligerence from BAE on this.
"I don't think that's the way to reward or to understand the workforce who have helped build that company over all those years."
'Other opportunities'
While Mr Murphy accepted the reality of cuts in the defence industry, he said some manufacturing jobs "should be in this area".
BAE workers have been campaigning against the redundancies since the defence contractor said in September that it would stop making the Hawk jet at its Brough plant.
Employee Mike Eyre said: "There's been a consultation between various people now to see if there's any future for the site in any other business maybe outside of BAE.
"There's guys looking at the site and the capabilities we've got, so there's other opportunities that could be explored."
A petition signed by workers and supporters will be submitted to Downing Street in December.
In a statement, a spokesman from the Department for Business, Innovation and Skills, said: "[We] are already in touch with the company, local authorities and local enterprise partnerships to make sure that everything possible is done to help those affected at Brough, Warton, Samlesbury and other sites."
BAE Systems' plans to cut 3,000 jobs nationwide will be the focus of a Commons debate set for 24 November.