Demolition of Scunthorpe car park set to start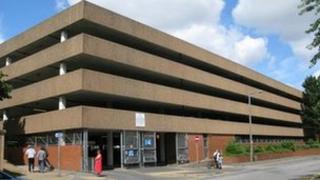 Work to demolish the Carlton Street multi-storey car park in Scunthorpe, which will lead to the temporary closure of a library, is due to begin.
The council said the demolition was complex and an exclusion zone would be in place from 21 November.
It will mean the North Lincolnshire Central Library will close temporarily from 10 December to 9 January.
Demolition will be carried out at night during the first three weeks with the full work taking seven weeks.
The council has advised people to visit their local library while the building is closed or use the virtual library website.
Officials said knocking down the car park, along with the old Scunthorpe Leisure Centre, would pave the way for further development.
Simon Driver, the council's chief executive, said: "People's safety is paramount and unfortunately we can't avoid the temporary closure of Central Library."