Humberside police chief's fears over cuts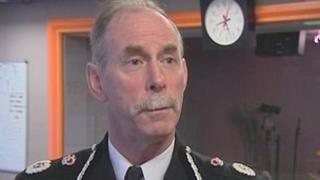 Neighbourhood policing faces a "double whammy" of cuts, Humberside's chief constable Tim Hollis has warned.
The Humberside force already faces making £30m of savings by 2016.
But Mr Hollis said he was "concerned" about the withdrawal of Home Office funding for nearly two thirds of Humberside's police community support officers (PCSOs) in 2013.
Mr Hollis said he wanted to maintain policing levels but faced "a real challenge" in the light of the cuts.
'Well-respected'
The Home Office currently funds 220 out of Humberside's 332 PCSOs.
Mr Hollis said that, while PCSOs were "well-regarded and well-respected" among local communities, the number serving on the Humberside force would have to be re-examined.
"We will have to make a decision about whether we can afford, and how we can continue to fund, our PCSOs," he said.
"We won't let down our communities, but we have got to work within the budgets we are given.
"We will strive to do our best, but the next 18 months to two years are going to be particularly challenging."
Mr Hollis added that the final decision over the number of PCSOs on the Humberside force after March 2013 would be in the hands of newly-elected police and crime commissioners.
The commissioners, who will oversee the running of the force, will replace Humberside Police Authority in November 2012.