Book to commemorate Bridlington's World War I soldiers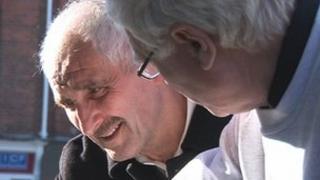 Two men from Bridlington have produced a book dedicated to the town's World War I heroes.
It features more than 300 soldiers, sailors and airmen whose names are listed on the Cenotaph in Wellington Gardens.
Authors Chris Bonnett and Mike Wilson have been researching the names since 2002.
The book also lists names featured on other memorials at Bridlington School and St John's Church.
Mr Bonnett said: "My wife's grandmother, Elsie Speed, mentioned to us one day that her eldest brother had died in the First World War in the Somme.
"Both Shirley, my wife, and I had never heard of him before so I decided that I would do some research and see what I could find out.
"Whilst I was looking through the newspapers I came across other Bridlington names who I sought of knew family members of and I thought, 'Well all of these people are servicemen who gave their lives and have been forgotten'.
"So I decided that I would research them all and this book is the outcome."
'Quite emotional'
Two of Mr Bonnett's great uncles and Mr Wilson's grandfather are named on the Cenotaph alongside more than 300 other names.
"It's no longer a gravestone, it's a person who died over 90 years ago from our town and its quite emotional sometimes," said Mr Bonnett.
Mr Bonnett said the book highlighted the realities of the war. Those who fought are not just names on a memorial plaque but have families and offspring that are still present and living in the town.
Both authors hope the book will make a difference to help educate those who have little understanding of the aftermath of war.
Mr Wilson said: "People should be aware of what happens in war and people who are left after the war."
The 22 ft (6.7m) high Cenotaph memorial was erected in 1921 and was unveiled in front of an estimated crowd of 12,000. It was refurbished last year by East Riding of Yorkshire Council at a cost of £20,000.
Proceeds from the sale of the book will be going to local and national charities including the Royal British Legion and Help for Heroes.