Grimsby domestic violence project saved by charity money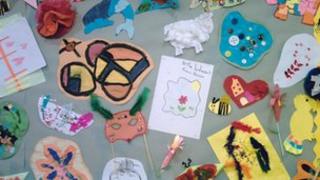 A project in Grimsby which supports children affected by domestic violence has said £105,000 of Children in Need money saved it from closure.
The children's services at North East Lincolnshire Women's Aid refuge were at risk of closing in 2009.
The refuge houses children and their mothers who have been the victims of domestic violence.
It is one of 19 projects in the region that have been funded by thousands of pounds by Children in Need.
After a campaign to keep it open, the children's services at the Grimsby refuge received £105,526 from the charity in 2009. The money has been used to fund a playroom, support workers, one to one therapy sessions, trips and public outings.
'Constant battle'
Angela Giles, the children's services co-ordinator at the refuge, said the safe house helps more than 100 youngsters and their mothers a year.
"There's a whole raft of issues that children come to us with," she said. "They can be really withdrawn or really angry.
"It's a confusing time when you've had to leave your family, your house in the middle of the night with little or no belongings, that's quite confusing when you're seven or 10.
"Two years ago if we didn't get money from Children in Need we would've closed our doors. Without that money we wouldn't be here supporting these children.
"We're in our last year now [of funding] and the money's going to run out next November so it's a constant battle."
BBC Local Radio is hosting 22 special screenings of Grease in aid of Children in Need, at Cineworld cinemas across England on Tuesday 15th November. Tickets are £6, with £5 going to Children in Need. More details here.