MP calls for "affordable" insurance for flood-risk homes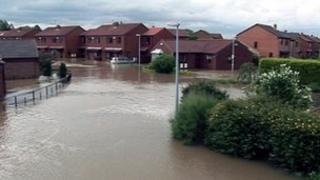 A Hull MP is calling for a review of the cost of insurance after some homeowners in flood-risk areas said their premiums had risen by up to 500%.
Hull North Labour MP Diana Johnson said some flood risk homes have even been refused cover.
According to the Association of British Insurers (ABI), damage caused by the summer 2007 floods cost the insurance industry £3bn.
The MP said insurance companies should provide cover at an affordable cost.
She said: "People feel really angry. I've had people on Bransholme telling me that they've now got insurance quotes of over £1,000 for their properties to be insured. Excesses have gone up to about £3,000 and in one case - £6,000.
"So there's quite a lot of evidence of the insurance market in Hull not being open."
'Really worried'
A recent report by the National Audit Office revealed a 10% cut in government funding for flood defences. It also said £20m would be needed each year to protect against flooding.
Ms Johnson said she was "really worried" flood risk homes would not be able to obtain affordable cover in the future.
"As long as the government is committed to providing money for flood defences then the insurance industry should take their responsibility seriously as well and provide reasonable cover for people in Hull at a reasonable cost."
Heather Sheppard, from the National Flood Forum, said: "It's something that we're addressing with Defra and the insurance industry in the flood summits held by government at the moment to see what we can do to try and solve this problem.
"At the moment there's an agreement between the government and the insurance industry to provide insurance for people as long as there is investment in flood defences across the country.
"This agreement will not be replaced in 2013 so it leaves everybody very vulnerable after this time as regards to insuring their homes."
Matt Cullen, of ABI, said: "Insurers have to be able to ensure that they're not going to make a significant loss on the whole portfolio of flood risk that they cover.
"Obviously when flood risk gets high insurers have to be careful and make sure that they're thinking about insurance very carefully when they offer it."