London 2012: Olympic torchbearer to abseil Grimsby's Dock Tower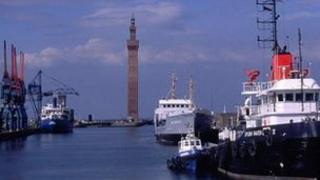 A torchbearer will abseil down Grimsby's Dock Tower with the Olympic flame when it comes to the Humber region next year, it has been revealed.
During four days in June 2012 the torch relay will make 11 stops in the area and two overnight stays.
The procession will visit the East Riding on 18 and 19 June and northern Lincolnshire on 26 and 27 June.
A torchbearer will run past the Humber Bridge, rather than over it, so the moment can be best captured on camera.
The Dock Tower was built in 1852 and was based on the Palazzo Pubblico in Sienna, Italy.
The abseil will take place on 27 June.
Worldwide audience
Councillor Mick Burnett, North East Lincolnshire Council's portfolio holder for tourism and culture, said he was "delighted" the area had been chosen to play a part in the Olympic celebrations.
He said: "With the torch passing through all three of our towns it will give everyone the opportunity to witness the spectacle of the relay celebrations.
"The Dock Tower has been chosen as an internationally recognised landmark that will see the torch travel in rather an extraordinary way through North East Lincolnshire as it makes its way to the capital.
"This will give us a great opportunity to showcase our area to a worldwide audience."
There will be celebrations when the torch stays overnight in Hull on 18 June and Cleethorpes on 26 June.
Thousands of torchbearers are being recruited for the flame's 70-day journey across the UK before the opening ceremony in London.
The Olympic flame will arrive in the UK from Greece on 18 May 2012.
The relay will begin at Land's End, Cornwall, on Saturday, 19 May and end on Friday, 27 July in the Olympic Stadium.
It is estimated it will be carried 8,000 miles.