Burstwick £3m flood defence finished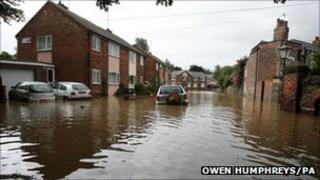 A new £3m flood defence system has been installed in Burstwick, East Yorkshire, which was badly affected by heavy flooding in 2007.
Two pumps and new embankments measuring 1.5m (4.5ft) have been built near Burstwick Drain.
The scheme, which was developed by the community with the Environment Agency (EA), will be operated and maintained by the residents.
It will protect more than 100 homes in the area and 350 properties in Hedon.
Resident Ron Smith, who is also chairman of the Burstwick Flood Defence committee, said: "It's absolutely fantastic. Everybody's over the moon.
"It means we don't have to worry now when it really starts to rain like it did back in June 2007.
"The flood defence has been built to withstand that sort of event. This was our own idea and it was accepted by the Environment Agency as being a good working solution.
"So we're in pretty good shape. We know that if it ever happens again we can do something about it to help ourselves rather than wait for someone who may not turn up because they're too busy elsewhere."
Flooding Minister Richard Benyon said: "Some smart engineering and a lot of community spirit means that homes and businesses in Burstwick are now 20 times less likely to flood. "
Craig McGarvey, from the EA, said: "Since the flooding in 2007, the town has made itself more resilient by forming a flood warden team and our investment will also reduce the likelihood of flooding on that scale happening again.
"Burstwick is a great example of what can be achieved when everyone works together."