Hull's foodbanks seeing more poor and hungry people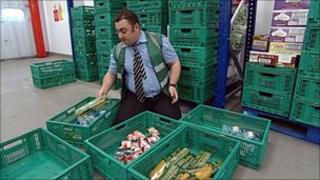 Eight months ago Adele Ridpath was helping others in her community in north Hull who were out of work and struggling financially. Now she is on the receiving end.
The 36-year-old, from Bransholme, became unemployed in April and the burden of not earning a crust is making it difficult to put food on the table for her and her two children.
"It's really hard. You only have a certain amount to live on when you're on benefits - and after you've paid all the bills, you're left with nothing.
"There have been times when I've been worried about what I'm going to eat that day or what my sons are going to eat. Obviously, as a parent, you put your kids first and then worry about yourself later.
"I've had quite a lot of days over the last few months where I haven't had a lot of food because I've had to give whatever I've had to my son.
"It's generally quite demoralising when you're laid off and on the dole."
'Feel rubbish'
Before losing her job as a manager at a debt centre, Adele was helping those struggling with debt. Now she is the one grappling with her own finances and trying to get out of the red.
"It makes me feel rubbish," she said.
"When I was in work it was a completely different lifestyle.
"Now I'm just living day to day. I'm worried about how things are going to be paid. It's frustrating being out of work and it's difficult to get a job.
"Over the last six months there's been very little jobs out there to go for. I'm prepared to do any job as long as I can get food on the table."
In a city where the unemployment rate is high, Adele has fears over the prospects for her children.
"It's my sons I worry about," she said.
"I don't feel confident they're going to get a job. My eldest is 17 and he's gone into the army because there's not much out there."
Figures from the Office for National Statistics show 7.9% of Hull's population is claiming Jobseekers' Allowance, which is more than double the UK average.
High unemployment rates have plagued the city for more than two decades. Low levels of economic activity coupled with a lack of highly skilled workers have compounded the problem.
Dr Michael Nolan, senior lecturer in economics at the University of Hull, said: "Hull has tended to lag behind somewhat in terms of the proportion of its workers that are really highly educated and highly skilled.
"[It] has had a greater proportion traditionally who have been without formal qualifications and that's something that [local authorities] are now trying to address."
'Swallow pride'
This month a new foodbank opens in Hull to feed the city's poor and hungry. Adele will be one of a growing number seeking help from the scheme.
"You don't get much on the dole and fresh food is so expensive these days that we need things like these foodbank schemes," she said.
The Hull foodbank will be the latest help scheme to open in the region. Hornsea saw its foodbank open two months ago and Scunthorpe's - which has been running for more than a year - has helped more than 1,620 people.
The charitable scheme takes surplus food from supermarkets to give to those who are struggling.
The city is also seeing an increase in the number of projects that are redistributing surplus supermarket food to the poor.
"It's demoralising. You don't want to go and ask somebody for food or money because you haven't got any," said Adele.
"It's not a nice thing especially when you've been in work and you're used to paying your bills and having money.
"I've had to go to my parents before and you just have to swallow your pride if you need something."
James Raven, the foodbank network director at the Trussell Trust charity, said the people that benefited from their schemes were referred by social workers, doctors or other professional agencies and could receive a maximum of three referrals.
"People who come to the foodbank recognise that actually this is charitable support and a lot of them are very embarrassed to be there," he said.
"We want to help people in crisis but we are very careful to make sure that we discern and work with the frontline agencies so that we don't create a dependency culture."
Adele sees the foodbank schemes as a much needed "lifeline" and is conscious not to become reliant on handouts.
"I'll only get help if I really, really need it," she said.
"If the alternative is my sons going without food then I would ask for help, but I try to manage on what I've got."