East Yorkshire women cut hair to help cancer patients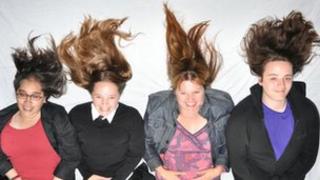 A group of women from East Yorkshire have cut their long locks to make wigs for people suffering from cancer.
Emma Dawber, a GP from Lockington, and 14 of her friends and family have been growing their hair for the past 18 months only for it to be cut for charity.
The team are donating their locks to people who have lost their hair through chemotherapy.
Dr Dawber, who has waist-length, dark brown locks, said she had become "very attached" to her hair and admitted feeling "really nervous at the thought of getting it chopped just above the chin".
But the 46-year-old, who claims never to have had such a dramatic haircut before, said she had been given a more extreme hair-raising proposition.
"I was actually offered £1,000 to have my head shaved but I couldn't go that far.
"I think it would scare the patients a bit."
So far the team have raised about £2,000 through sponsorship and donations, with all the money going to the cancer charity, Macmillan.
The GP was amazed when one patient donated locks belonging to their mother, which had been cut in the 1920s.
Dr Dawber said she was inspired to go under the shears after being moved by friends and colleagues who were losing their hair through cancer treatment.
"It just really struck me that our hair is so important to us and how hard it must be for them.
"I just grow this really long, thick hair and it grows quickly and I thought, 'why can't I just donate my hair to make wigs for them?'
"Then I mentioned it to my sisters and family and friends and it all snowballed from there into this big do we're having."
All 14 women, as well as Dr Dawber's 16 year-old godson, Jacob Close, have had their hair cut at a fundraising evening at Seaton Village Hall, near Hornsea, on Saturday.
So how did the GP feel so close to the event?
"I keep stroking my hair because I suddenly realise now how much it means to me, because it's going to go. I've never had short hair before."