Polish plaque is unveiled at Weelsby Wood in Grimsby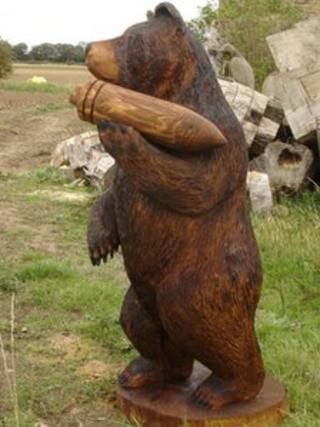 A memorial is unveiled in honour of a Polish regiment based in Grimsby after World War II.
The Carpathian Lancers camped in Grimsby when they were demobilised after the war but were unable to return home because of the Russian occupation.
In honour of the regiment, the Anglo-Polish Society raised thousands of pounds for a commemorative plaque and sculpture in Weelsby Woods.
Chairman George Palejowski said the regiment "made Weelsby Woods its home".
The regiment's mascot which was a bear cub called Wojtek has been carved from wood for the memorial.
Mr Palejowski said: "We are delighted that we have been able to finally commemorate these Polish men who played a very important role in the war.
"They made Weelsby Woods their home after finding they could no longer return to their homeland, so we are delighted to have a plaque in the regiment's honour within a special garden in the park."
In 1947 the military camp in the park disbanded with many of the Polish men settling in the town.