Pensioners facing eviction in row over 'holiday homes'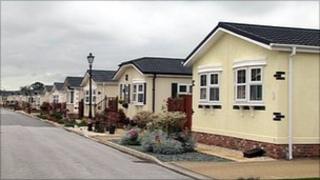 People living at a retirement village in East Yorkshire could face eviction because of a planning row with the council.
Lakeminster Park is home to about 200 pensioners in Beverley.
East Riding of Yorkshire Council said the site was a holiday village and had told its residents they could not continue to live there all year round.
But the owners claim this was not communicated to them when they bought their homes.
They say they are now caught in the middle of a planning dispute between the developers of the complex and council officials.
Resident David Foulstone said they had been getting mixed messages from the council.
'Totally confused'
He said: "The site licensing states that we can live here all year round. On the other hand the planning department have issued us contravention notices stating that we're 'in contravention of planning permission' because they say we can't use it as a sole or main residence.
"Yet my investigations with the council tax department - for which we pay full 12 months council tax on this site - say that I must pay council tax because it is my sole or main residence.
"So we're totally confused. We seemed to be caught in between."
A meeting between the council and the park's residents failed to resolve the issue.
The Conservative MP for Beverley and Holderness, Graham Stuart, said he believed the developer had misled residents.
He said: "The permission in the first place was quite clear that these houses could not be used as someone's main or sole residence and yet the suggestion is that is precisely how they were sold."
In a statement, the Cheshire-based firm, Lakeminster Park Ltd, denied this and claimed the council should have acted sooner.
It said: "Any issues the council had with the plans and properties should have been discussed at a much earlier stage, in order to avoid the situation the council has now put residents in."
'Not responsive'
Lakeminster Park went on to say it was aiming to find a solution which allows residents to remain in their properties.
Solicitors acting for the firm said they had been trying to resolve the matter since May when the first planning contravention notice was issued.
In a statement, Lewis Griffiths, from Hacking Ashton LLP, said: "The council has refused to engage in dialogue with us and has made no attempt to resolve the situation in a mutually acceptable way.
"Despite numerous requests, we have not had a positive response from the council."
Alan Menzies, the director of planning and economic regeneration at East Riding of Yorkshire Council, said the properties were never intended for full time residence.
He said: "The original application that was submitted by the owners of the site was for holiday homes and we approved that and we issued the planning consent in 2006."