Hull Royal Infirmary A&E gets £7m revamp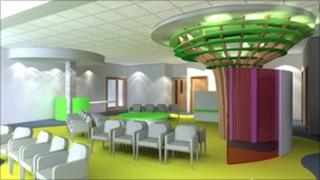 A project to improve the accident and emergency department at Hull Royal Infirmary has started.
A total of £7m will be spent extending the department space to double its current size. It will also have 18 treatment areas instead of five.
There will be separate areas for children and people with minor and major injuries.
The department is being revamped to allow patients to be treated more efficiently, the hospital said.
Staff currently have to cope with 120,000 patients each year in a hospital that was originally built to treat about 50,000.
Phil Morley, chief executive for Hull and East Yorkshire Hospitals NHS Trust, said: "Our staff do an amazing job in cramped and uncomfortable conditions.
"People in our region have waited a long time to see these facilities upgraded but, once complete, the new emergency department will be one of if not the best in the country."
The project could take up to two years to complete.