Payout over Scunthorpe steel worker's asbestos death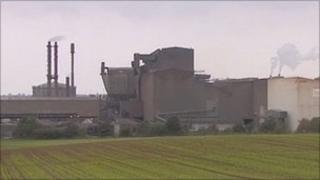 The family of a Scunthorpe man who died after being exposed to asbestos while working at the town's steelworks has been awarded £48,000 in compensation.
Reg Grimshaw died last year, aged 88, from the lung disease mesothelioma.
He spent his entire working life at the plant, which was run by a number of companies over the years, including the nationalised British Steel Corporation.
Current owners Tata Steel said the claim was from a "historic exposure to a risk".
Malignant mesothelioma is a rare form of cancer which affects the thin membrane that lines the chest and abdomen. About 2,400 people are diagnosed with the condition in the UK each year.
According to Cancer Research UK, up to 80% of cases of malignant mesothelioma are caused by exposure to asbestos fibres.
Mr Grimshaw, who worked at the plant from 1938 until his retirement in 1993, is believed to have been exposed to the asbestos from the insulation lagging used on the pipework in the factory.
His daughter, Lynne Goodall, said: "He went from being fit virtually one week, carrying out his daily activities as normally, to suddenly starting to feel breathless.
"After that he never drove again. He couldn't do any physical activity, to the point of being bedridden by the sixth week."
Tata Steel said: "Mr Grimshaw was exposed to asbestos on the Scunthorpe steelworks when the site was run by British Steel and its predecessor companies.
"Asbestos-related claims arise from historic exposure to a risk which is now properly understood and managed. Tata Steel has in place robust monitoring and auditing procedures that are compliant with health and safety legislation.
"Any claim involving asbestos exposure is assessed on an individual basis. The settlement of this claim has been handled on behalf of Tata Steel by its insurers.
"Our deepest sympathies are with Mr Grimshaw's family for their loss."