Acoustic trio The Happy Endings becomes a full band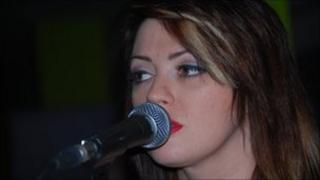 Hull-based trio The Happy Endings are well known on the Hull scene for their gorgeous vocal harmonies and captivating song-writing.
Now, sisters Rachel and Emma Fee and brother Adam are making a departure from their acoustic roots and opting for a full band sound.
The new line-up will also herald the recording of their first album.
The band made their live debut on BBC Introducing on Radio Humberside this month.
Acoustic beginnings
It was always destined that the Fee family would end up being musicians. With a dad and uncle in bands, there were always guitars in the house when Rachel, Emma and Adam were growing up and it was only a matter of time before the siblings went down that route themselves.
"Rachel and I started out doing covers in the pubs and we were even in a girl band in the early days," said Emma, "but then Adam picked up the bass and joined us and it opened up a whole new world for us."
As a trio, The Happy Endings began their live career playing at open mic nights. It was the ideal place to try out new material, gain confidence and get used to playing live to an audience.
Straight away, it was the vocal harmonies of the band that began to earn them a reputation on the local music scene.
"It's natural for us to harmonise and sing together," said Rachel, "we seem to instinctively know what each others going to do next so it makes the singing really tight when we perform live."
So why does the family trio, with such a growing reputation, feel the need to swell numbers and form a full band?
As the main songwriter, Emma says that the songs she's beginning to write now are suited to a full band sound.
"When I write and record at home I usually add drum and bass tracks myself anyway," she said, "and I'm increasingly writing music with that full sound in mind. We won't leave behind our acoustic performances entirely but we're really excited about this new direction for The Happy Endings."
New line up
With such a strong reputation already established within the Hull music scene, it is not surprising that The Happy Endings have attracted some exceptional musicians to their new venture.
"It's quite a line up and we've been able to borrow a few musicians from other bands," enthused Adam.
"Dan Seeth from Burnt Books is on bass, Dan Burns is on the bongos - he plays with Tom Gorringe usually - and Al Smith is on drums. Al is part of Ysabelle Wombwell's band The Reigning Geese.
The band made tentative steps towards playing as a unit at jam nights such as those at Hull pub The Polar Bear.
They made their debut on BBC Introducing on Radio Humberside this month. The verdict? Presenter Alan Raw said: "I thought they were incredible and very tight considering they've only been playing as a band for a while.
The distinctive Happy Endings harmonies are still there but they've now got such a rich sound. It was a pleasure to have them on the show."
With the band in place, the Fee sisters and brother are now planning an album and their prolific song writing means that the material is already more or less ready to be recorded.
The only problem may be finding the time. As well as all having jobs, Rachel, Emma and Adam also find themselves in demand from other musicians on the Hull music scene. Emma performed at the Hull Eclectic Proms in October alongside Rory Mansfield and the band's vocals are much in demand.
"We're exhausted," laughs Emma, "but we love it and wouldn't have it any other way."
The Happy Endings plan to release their debut album as a band in the new year.