Humber Bridge toll rise: motorists stockpile tickets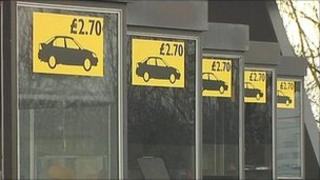 Tolls on the Humber Bridge are to rise from midnight, making the crossing the most expensive in the UK.
A single crossing will rise from £2.70 to £3.00 per car on 1 October.
Motorists have been stockpiling books of tickets at the lower price in advance of the rise, the Humber Bridge board said.
Board chairman David Gemmell said: "People come and queue and stock up because they know they can make savings and that is sensible."
One commuter who uses the bridge to get from his home in Hull to work on the south bank of the Humber said he had bought enough tickets to last until next April.
"I was made redundant four years ago and the only jobs in the chemical industry were on the south bank which meant travelling across the bridge," he said.
"If you need to work and keep in employment you have to go further afield.
"I've just bought 10 books [of bridge tickets] which equates to £500 and will cover me until April."
The Department for Transport has approved the toll increase which was proposed by the bridge board as it attempts to repay £330m of debt. The bridge was financed with a £150m government loan, which rose to £330m due to interest.
A treasury review into the wider economic impact of the tolls is due in November.
Mr Gemmell said of the increase: "We're very sorry this has to happen but the problem is we have a statutory duty to maintain and run the bridge, to pay the interest and pay the capital.
"The only way we can do that is by getting income in and our only income is through tolls."