Ex-forces staff to mentor pupils in England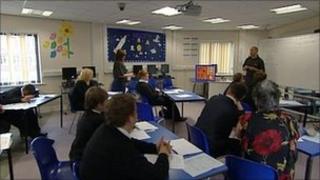 Work has begun to train 100 former members of the armed forces to become mentors in schools in England.
The government is investing £1.5m in the scheme, which builds on programmes already being run by the education charity, SkillForce.
The instructors go into schools to inspire pupils and challenge problems with their behaviour.
After 22 years serving as a soldier on the front line, Andy Butcher now finds himself in classrooms trying to prevent teenagers from making the mistakes he made at that age.
"I have been where these kids are," he says.
"I left school with no qualifications."
Staff at Goole High School in East Yorkshire have already had success in improving both attitudes and results.
To add to those efforts SkillForce instructors have started working with pupils in the school's high support unit.
Classroom confrontation
Jessica Edwards, who is a year 11 pupil, accepts that she can clash with teachers.
"If they confront me about something that I have done wrong, then I will confront them back," she admits.
The SkillForce classes are very different to the traditional lessons that they will replace one day a week for the next year. They include quizzes and practical tasks.
However it is still difficult keeping all of the students engaged.
During the session some begin writing on their arms with marker pens and one pupil puts his head on the table and starts to fall asleep.
When he is told off and asked to wait outside the classroom, he just goes home.
Despite their forces background, the instructors will have to work hard to ensure that all the pupils show them respect.
Danuta Tomasz, the head teacher of Goole High, said: "They might expect a certain thing of them in terms of discipline... but the bottom line is that these kids will respond to whoever shows an interest in them.
"The 'wow factor' will only have an impact for so long."
Chairs thrown
The idea of troops as teachers is not new and has proved successful in some US schools.
The SkillForce scheme is slightly different. The mentors work side by side with teachers in the classroom and in some cases directly with individual teenagers.
The mentors say in other schools the problems are more serious.
"A few pupils have thrown chairs and started fights in classrooms," reveals Gemma Duncan who is one of the instructors.
"We get a lot of backchat... you just have to ignore it."
Chief executive of SkillForce Peter Cross said the charity's work had the backing of the education secretary.
"Michael Gove is supportive of the idea of putting people who have been in the military into schools in various different roles."
Previous work by SkillForce indicates students who have taken part in the programme are much more likely to go on to further education.
Judging whether the programme is a success in Goole High School will take time.
But there was an achievement right at the start of the scheme.
For one pupil it marked his first full day of school attendance for months.