Bikers protest against new EU law on region's roads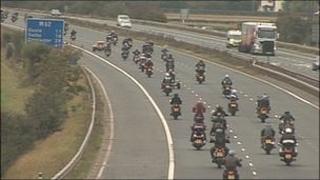 Hundreds of bikers have taken to the road in protest at new European Union laws which they claim will restrict motorcyclists.
A go-slow convoy drove at a steady 45mph (72kph) down the A63 and other roads across the region.
The protest was organised by the the East Yorkshire Motorcycle Action Group and was one of many taking place across the UK.
Riders claim the proposed measures could stop them modifying machines.
Jolyon Lawson helped organise the event and said the new rules were too restrictive.
"You won't even be able to change your own oil at home, a lot of people do their own home servicing, particularly in today's financial climate," he said
"The vehicle will have to remain with the same tyres it was always fitted with. Now tyre choice is something that is very important. We have a very small amount of rubber on the road at any time."
The EU Type Approval Regulation proposals will bring in stricter laws on the construction and maintenance of motorcycles.
The UK Department for Transport has launched a consultation process on the changes.
Roads Minister Mike Penning, said: "I hope as many people as possible will respond to the consultation and give us the benefit of their knowledge and experience as we progress towards the negotiating stage on these new rules."
A committee of MEPs will vote on the proposed regulation later this year.