East Yorkshire hosts charity metal detector festival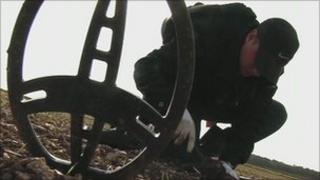 More than 400 treasure hunters have descended on an East Yorkshire village for a weekend metal detecting festival.
The Bishop Burton event has drawn enthusiasts from around the world to hunt for buried items on 1700 acres (688 hectares) of farmland.
Each participant's entrance fee goes to the military charity Help for Heroes.
One of the experts supporting the event said he hoped they would uncover some new finds.
Dr Kevin Leahy is an archaeologist from Scunthorpe who worked as an advisor on the excavation of the Staffordshire Hoard of Anglo-Saxon gold jewellery which was discovered by a metal detectorist in a farmer's field in July 2009.
Dr Leahy said: "We know quite a lot about East Yorkshire. But, the more we can find out, the more kilometre squares we can fill in with information, the better.
"There will be new sites discovered here."
One participant, Mike Stavas, had travelled to the event from the Netherlands.
He said: "I come here for the first time in England just to find hammered coins, or stuff we don't find in Holland."