Fin whale dies after stranding on mud in Humber Estuary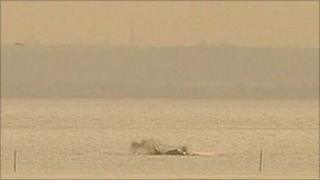 A whale which was stranded on mud in the Humber Estuary has died.
The animal, which was believed to be a 50ft (15m) fin whale, was reported to be on the bottom of the Humber, 400 yards (385m) from the shore.
A team from the British Divers Marine Life Rescue has been at the scene, near the village of Skeffling on the Holderness coast.
Earlier this month another fin whale died after it beached itself on mud flats near Immingham.