Hull girl Abbey Jo Longley packs a punch aged 11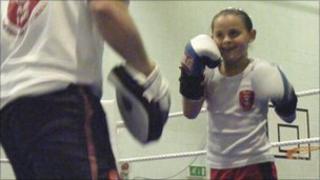 An 11-year-old girl from Hull is on the verge of an amateur boxing career after receiving permission to take part in licensed bouts.
After two years of training, Abbey Jo Longley, from the Longhill Estate, has received her "card", allowing her to step into the ring for amateur fights.
She is the youngest carded female fighter in the city.
Abbey, who is 4ft (1.2m) tall and weighs four stone (25.4kg), revealed how name-calling by bullies caused her to turn to the sport two years ago.
"I used to always get called names but I thought boxing could help it. So now it just shows that it has actually helped me.
"[People have picked on me] and they've messed with the wrong girl, basically."
Her mother, Lorraine, who is "100% behind" her daughter fighting, said she had seen a marked improvement in Abbey's character.
"It's an amazing turnaround. I've seen her grow in confidence. She can deal with things a lot better.
"Abbey's fast and nimble. Obviously she's going to meet people who are going to give her knocks but I think she's got a strong enough character and determination to deal with it."
'Little gem'
Abbey's first fight is expected to be fixed for November against a boxer from Derbyshire of a similar age and weight.
"I'm ready to fight now and I'm really looking forward to it," she said.
Her trainer at East Hull Amateur Boxing Club, Sean Ross, said: "Within seven months of Abbey starting I knew that she'd developed power, speed, good footwork - it was all clicking together pretty nicely.
"She's definitely a little gem. She's one to look out for."
According to the British, Scottish and Welsh Amateur Boxing Associations, there are only three other female boxers of a similar age in the UK, which means Abbey will have to look around for a bout.
Mr Ross, 31, said: "With Abbey being so small and her age, there's not many [boxers] around the UK that'll match up with Abbey, because you have to be within two kilos of each other and within 12 months of age.
"So it's pretty hard to find another girl out there.
"But we do have contacts with Denmark, Ireland and Australia, so we'll definitely get her a bout."