Rescued fin whale dies on Humber Estuary sandbank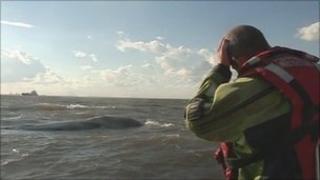 A whale which was rescued when it became stranded on mud flats has died.
A team of more than 50 people released the 27ft (8.23m) fin whale after it became stuck near Immingham docks on Tuesday.
Emergency crews were called out again on Thursday afternoon after the whale washed up for a second time, on a sandbank off Cleethorpes beach.
The whale died despite rescue efforts of a team of marine vets, divers and personnel from HM Coastguard.
John Levinson, a veterinary surgeon from Hull who was involved in the original rescue, said an estimated 90% of rescued beached whales died shortly after.
He said: "But you must try because it might be the 10%. So yes it's upsetting.
"It sounds an awful thing to say but we can't say we're surprised but everyone did their best."