Report claims shortfall in affordable new rural housing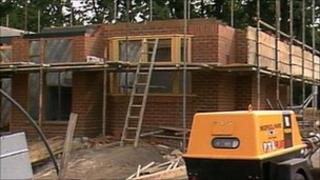 A campaign group has claimed a council is failing to meet its own targets for building affordable rural housing.
Research by the Countryside Alliance shows that the East Riding of Yorkshire Council is planning to build just 9% of the housing required to meet demand.
The figures come from the council's own Housing Needs Survey, which identifies how many low-cost homes are needed.
The councillor responsible for housing said the authority was "trying to address the problem".
'Countryside will wither'
The research shows that according to the most recent housing survey, compiled in 2007, the East Riding needs 1,400 new inexpensive properties a year. This year it has just 125 planned.
Dillon Sharpe, from the Countryside Alliance, said the shortfall could have an impact on country life.
He said: "The danger here is that there is no affordable housing in rural areas. And so people living in rural areas, who maybe want to start a family, have to move out and the countryside that we know and love is going to wither."
Mr Sharpe acknowledged that the council was not solely responsible. He cited a reduction in funding and objections from local communities, who often did not want affordable housing built in their area.
East Riding's portfolio holder for housing, councillor Simon Fraser, said the target was "extremely challenging".
He said: "It is a problem and it is a difficulty for the future."
Mr Fraser added that the council was committed to providing low-cost housing: "We have the biggest single programme of affordable home council house building in the country, outside of London."