Hull women boxers inspire exhibition ahead of Olympics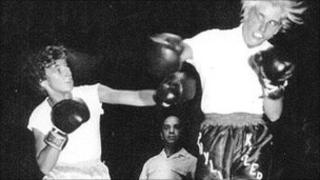 An 82-year-old former fighter is among the Hull women boxers photographed for a new exhibition.
'Girls in the Ring' is part of the Cultural Olympiad and has been put together by Hull-born photo journalist Lee Karen Stow.
It features about 20 women boxers including Barbara Butterick, who was the world's first female champion.
The 2012 Olympics will see women's amateur boxing included in the Games for the first time, which was the inspiration behind the project.
Ms Stow, 45, said: "I was absolutely amazed at the number of girls and women who do boxing in the city seriously, not just as an exercise to keep fit but to go for the Olympics, to get in the ring and to win medals.
"I wasn't prepared for that and I just thought 'wow, this has just got to be documented' especially in the Olympic year."
While there are no female boxers from Hull selected for the British 2012 Olympic team, nationally the number of women boxers are steadily rising.
Within 12 months of the International Olympic Committee (IOC) making women's boxing an Olympic sport in 2009, the number of female competitive boxers increased by 25% to 868, according to the British Amateur Boxing Association.
Boxing booths
Cottingham-born Barbara Butterick was a major influence on Ms Stow's exhibition. Her achievements paved the way for women to be accepted in the sport.
Mrs Butterick started her career in 1948, initially in boxing booths that toured fairs and carnivals.
Unable to box professionally in the UK - female boxers were not recognised by British officials at the time - the world's first female champion had to leave home and move to America to realise her ambition.
She had fought more than 1,000 exhibition matches with men and around 18 professional women's fights, winning a world title in 1957.
The 82-year-old, who lives in Florida, is now president of the Women's International Boxing Federation (WIBF).
In February, Ms Stow flew out to Miami to interview and photograph the champion.
She said: "I'm so glad I got to meet somebody who I think should be up there as high as Amy Johnson for what she's done for women's sports and what she's achieved."
The exhibition also features a number of female boxers from Hull's twin city of Freetown in Sierra Leone, which follows on from Ms Stow's previous photography work in the African country.
Ms Stow said: "It's great that there are women boxing at the Olympics but that doesn't mean all of the women have a chance.
"The women in the West do have good clubs, good trainers, good diets. These women in Freetown they don't have anything.
"While I'm continuing to photograph the women and girls of Hull and I wish that we will get a Hull girl to the Olympics one day, I really really am campaigning for the women in Freetown to at least have a chance.
"And my dream would be to see the women of Freetown boxers, the women of Hull boxers and Barbara Butterick all in one place next year, just before the Olympics in 2012, in Hull and have a good old spar - that would be amazing."
Girls in the Ring is on show at The James Reckitt Gallery in Hull until Friday 19 August 2011 before it goes on tour across Yorkshire next year.