Hull Trains chief apologises for disruption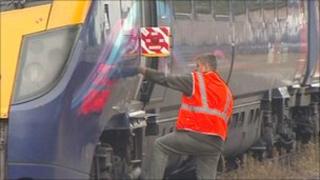 The head of Hull Trains has apologised to commuters who have been hit by weeks of disruption on services to London.
Chief executive Cath Bellamy admitted to BBC News the company's fleet of trains "have not been as reliable as they need to be".
Only two of its four trains have been available in the past three weeks because of electrical problems.
"I'd like to apologise to passengers who've found themselves involved in any of the disruption," said Ms Bellamy.
She said the company needed three of its trains to be running to maintain its advertised timetable of 14 services a day.
As a result, Hull Trains has decided to run a reduced timetable of 11 daily services for at least the next two weeks.
'No spare trains'
"Unfortunately in the last three weeks we have experienced some persistent and fairly major electrical problems with our trains," said Ms Bellamy.
"Our first priority now is to ensure our trains are fixed and working and can be relied upon.
"It is for that reason that we have decided over the next couple of weeks to run a slightly reduced service."
She said the company had explored the possibility of leasing a train to bolster its fleet but had been unable to find a suitable vehicle.
"There are simply no spare trains available in the UK that are easily acquirable," she said.