Hull job search flyposter Daniel Bird fined by council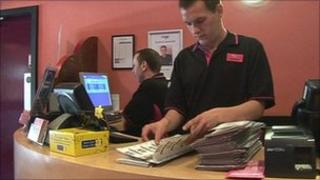 An unemployed man from Hull who put up posters across the city to advertise the fact that he was looking for work has been fined by the council.
Twenty-year-old Daniel Bird had been looking for work for more than a year before deciding to take action.
He printed out dozens of posters which featured his picture and the words "Will someone give me job??" and stuck them to lampposts in the city.
He was given a job at Mecca Bingo but has now been fined £75 for flyposting.
'Really desperate'
Mecca Bingo manager Steven Jones said he offered Mr Bird a job as a team assistant after spotting his posters in the city centre one morning.
"I was on the way to work and I saw these posters up," Mr Jones said.
"As I walked in to work they were every 10ft or so. I thought it was really proactive, he was showing entrepreneurial skills and he was obviously really desperate for a job and I thought it was a good way to do it."
The city council agreed that Mr Bird was to be commended for actively seeking employment.
However, the authority said in a statement: "While the commitment shown by Mr Bird to find a job is to be commended... flyposting is illegal and blights our city and we cannot allow this type of activity to grow."
News of the fine comes less than a month after figures from Jobcentre Plus showed that Hull was the worst city in England in which to secure a job, with up to 83 people chasing each vacancy.
Although disappointed to receive the fine, Mr Bird said he was enjoying his new role as team assistant at Mecca Bingo.
"It's going good," he said.
"I'm calling out the numbers and that when anybody claims. Front of house, answering the phone, computer where they're serving drinks and food. I love it. I'm so proud that I've got this job."