Fish fingers 'best of UK' says Grimsby MP Mitchell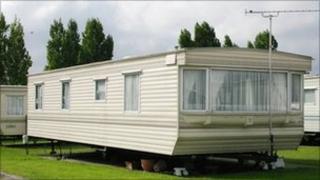 Local MPs have nominated fish fingers and caravans as examples of the best of British manufacturing.
MPs were asked to name one product produced in their constituency for a new initiative called Made by Britain, which aims to highlight the importance of manufacturing to the UK economy.
Great Grimsby MP Austin Mitchell went for fish fingers, while David Davies nominated caravans.
The campaign is being backed by business secretary Vince Cable.
Mr Mitchell said of his choice: "It's not high-tech and it's not a brilliant computer invention or anything like that. But it is basic, it is solid, it's lovely and people like it."
The region's manufacturing sector employs a larger than average number of people.
According to figures from the Office of National Statistics manufacturing accounts for 17.1% of jobs in Hull. The UK average is 10.2%.
David Davies, MP for Haltemprice and Howden, chose caravan manufacturing, one of the largest industries in the area.
Victory Leisure Homes based in Hull manufactures static lodges. The company was established two years ago and has seen its workforce expand from 20 people to 80.
Managing director Peter Nevitt said he was glad that caravan manufacturing was getting some recognition.
He said: "We are something like a £3 billion industry, but we're classed as a cottage industry.
"It's a big industry for Hull, for the employment in Hull. It's a lot of supplies and services."
The Made by Britain campaign aims to launch a website, billed by one of the organisers as a "virtual Crystal Palace", a reference to the London Great Exhibition of 1851 that promoted Victorian Britain's manufacturing might.