Teachers in Hull defend strike action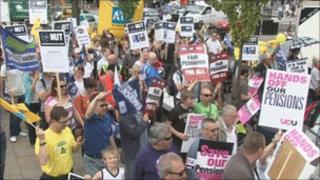 Public sector workers striking in a dispute over pension reforms have denied "acting like students".
Hundreds of teaching staff, lecturers, coastguards and defence transport drivers joined the action in East Yorkshire and northern Lincolnshire.
Teacher Suzanne Finn said staff were "not acting like students, but asserting our democratic right".
Government ministers have said the public sector pensions are too expensive to maintain.
And a Conservative MP has said teachers are "abandoning" children in their care by taking part in public sector strike action over future pension plans.
More than 150 schools across East Yorkshire and northern Lincolnshire were closed or partially-shut on Thursday.
Graham Stuart, Beverley and Holderness MP, has urged teachers to go to work.
Teaching unions have said the government proposals will mean them working longer and paying more.
Up to 750,000 teachers and civil servants are taking part in the strike.
The 24-hour walkout involves members of the National Union of Teachers (NUT), the Association of Teachers and Lecturers (ATL), the University and College Union and the Public and Commercial Services (PCS) union.
Mr Stuart said: "Teachers should go to work. They should be there for the children, they should defend the status, the professionalism of teachers.
"They shouldn't be out there on strike abandoning the children for whom it's their duty to provide care."
Teacher Emma Hardy said: "The evidence we're being shown is that there is no deficit, and yet they're (government) asking us for more money and I don't understand that.
Ms Hardy's colleague, teacher Suzanne Finn said: "I don't think we're acting like students, I think we're asserting our democratic right and actually a lot of parents do support us.
"It's very difficult as a teacher to demonstrate in any other way that could be effect."
Chris Goodwin, head teacher at Beverley Grammar School, said: "What this is is 3% cuts for teachers plus a draconian move away from ends of salary for head teachers.
"We're already having big problems recruiting head teachers into the profession."
Alex Leach, an admin officer for the Crown Prosecution Service in Hull, said under the plans to alter public sector pensions he would have to pay an extra £50 a month into his pension and faced the prospect of a longer working life.
The 30-year-old said: "At the moment I can retire at 60.
"If these proposals come through it's not going to be until 68."
Mr Leach said he would be on the picket line and attending a rally in the centre of Hull on Thursday.
"No-one here wants to go on strike, but we feel that we're being forced down that avenue at the moment."
Demos and picket lines are planned across East Yorkshire and northern Lincolnshire with hundreds of people expected to join a rally at the Royal Station Hotel in Hull.
The UK Border Agency said it was not expecting major disruption at Humberside Airport or Hull Ferry Port and passengers were being advised to travel as normal.
Hull, East Yorkshire, North Lincolnshire and North East Lincolnshire councils are updating lists of closures on their websites.