David Hockney: Largest painting on show in Hull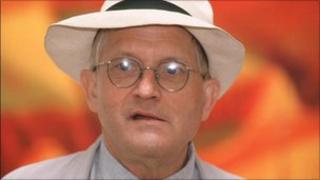 David Hockney's largest work to date has gone on show at a city centre art gallery.
Bigger Trees Near Warter measures 40ft by 15ft (12.2m by 4.6m) and depicts a landscape scene near the East Yorkshire village of Warter.
The painting spans 50 canvasses and has taken technicians at the Ferens Art Gallery almost a week to install.
It is being installed on a purpose-built wall.
Assistant curator Claire Longrigg said: "It's absolutely amazing.
"It's on a shaped wall a bit like a large altarpiece and it actually gives you a more intimate experience, you almost feel like you're surrounded by the landscape."
Resident Vince Jones, who runs a newsagent and Post Office in Warter, said: "This is a very small village and it's based on the agricultural community round here."
Another resident Mark Jackson said: "We [used to see] him [David Hockney] drive past in his open top car with his white hat on a few times."
Ms Longrigg said: "We're expecting thousands and thousands and we'll have our queue barrier at the ready."
Bigger Trees Near Warter opens on 24 June 2011 and runs until 18 September 2011.