Hull Truck Theatre appeals for funds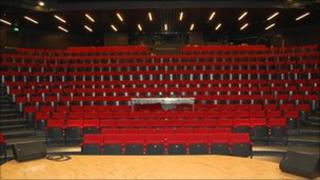 Hull Truck Theatre has launched an appeal to audiences to help tackle its cash crisis.
High-running costs, combined with a cut in public funding, means the theatre is facing a £500,000 shortfall over the next three years.
The theatre moved from Spring Street into its bigger multi-million pound premises on Ferensway in 2009.
Since then they have been battling disappointing audience numbers and revenue.
Chief executive Andrew Smaje said: "We have 300 extra seats and there are two auditoriums in the theatre… now you don't find 300 extra people every night just like that. There is no quick fix to that.
"That is about developing audiences by putting on real high quality work that appeals to a broad range of people.
"It takes around about three to five years to build that audience into a critical mass."
The theatre has been forced to reduce ticket prices for its productions and is calling for people to make extra donations when making purchases.
Mr Smaje said: "It's a call to action for our audiences, to people in the city, local businesses and key individuals to invest in Hull Truck's future.
"It's incredibly important to the city that Hull Truck survives and thrives."