New renewable energy power plant planned for Hull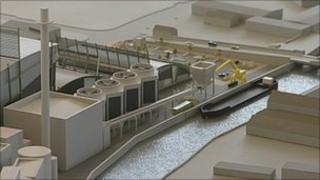 Plans have been unveiled for a new power plant fuelled by household waste in Hull.
The proposed £150m plant would be built next to the River Hull on the site of a former cocoa factory.
The plant would generate power by a process known as advanced gasification, where household waste is turned into gas and burnt to provide electricity.
Developers C Spencer Ltd said the plant would produce enough energy to power 25,000 homes.
The complex would incorporate a wind turbine, solar panels and an anaerobic digestion plant, which breaks down organic waste and converts it to gas that is then pumped into the UK's national gas distribution network.
Charlie Spencer, chief executive of the development company, said Hull could see 200,000 tonnes of waste a year saved from transport to landfill sites.
He said the emissions from the burning of the gas would be "offset by the number of vehicles it will take off the road".
"Food waste is a problem at the moment. It may just be composted and the methane just goes up into the air, or it's taken out of the area to other places in the country." he said.
A previous plan for an incinerator at Saltend to burn waste was opposed by a variety of local groups.
One of the organisations involved in the campaign was Friends of the Earth. It said it was too early to comment on the proposals for the new plant, planned for Cleveland Street.
In a statement the charity said: "The industry claims that gasification is better for the environment than incineration.
"However, Friends of the Earth fears materials will enter the mix that could be recycled. And we are campaigning for the government to prioritise recycling and for the UK to boost recycling rates to 70%."
The planning application has been submitted to Hull City Council for consideration.