Hull is 'fourth best cycling city'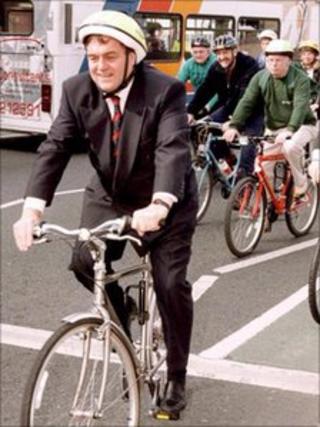 Hull has been named one of Britain's top cities for cyclists.
A report by the University of East London (UEL) shows that 12% of Hull's commuters cycle to work, which is three times higher than the national average.
Hull ranks fourth nationally and has one of the highest numbers of cyclists for a UK city.
The report's author, Rachel Aldred, said Hull's flat landscape and size were among the factors that contribute to the high proportion of riders.
Ms Aldred, the director of UEL's Sustainable Mobilities Research Group, said: "People tend to have shorter commutes to work in Hull than in the rest of the region and in the country generally.
"Over half of people are travelling less than 5km, [this number of cyclists] is significantly higher than the English average.
"There's a number of other factors as well - the city layout and size - it's a compact city but it's relatively difficult perhaps to get around by other modes.
"It's also got low car ownership traditionally, which makes a difference, and in the 1990s there was a range of policies put in place and there was an active cycle campaign."
'Brilliant infrastructure'
Ms Aldred also said the measured traffic zones and cycle routes, as well as the plethora of bike shops, have helped to encourage more people to cycle.
One bike store in the city has seen its trade boom in the last 12 months and has expanded to cope with the increasing demand from cyclists.
Stuart Woodmansey from Bob's Bikes on Beverley Road said: "We've tripled in size over the last year; we've had to open a new shop.
"The rising petrol cost is a big issue and congestion - I get this all the time from new customers.
"But also there's a brilliant infrastructure for cycles and a massive cycle network. It's just easy to get around.
"We can get across the city twice as quick as any car and there are a lot of off-road tracks."