Yorkshire protests over beagle breeding expansion plan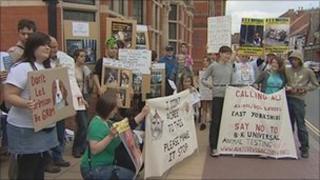 Residents and animal welfare campaigners are protesting against the expansion of a beagle breeding centre which provides dogs for animal experiments.
B&K Universal, based in in the village of Grimston, is seeking planning permission to redevelop its facilities.
Campaigners protested against the development outside County Hall in Beverley over the weekend.
The company said the site was "in need of modernisation."
The plan is to demolish existing buildings and construct four new sheds to accommodate the dogs.
The National Anti-Vivisection Society (NAVS) said it had submitted an objection to the East Riding of Yorkshire Council, raising the complaints of local residents, as well as scientific arguments against the use of animals in laboratory testing.
Luke Steele from NAVS claimed the proposed facility would house up to 2,500 dogs and be the largest beagle breeding centre in the UK.
He said: "The location is completely inappropriate for the large scale production and breeding of the these animals, and quite frankly it shouldn't go ahead."
'Mental stimulation'
B&K Universal has not confirmed the number of dogs it intendd to breed at the site.
In a statement the company said: "There is a national need for high quality research animals in the UK.
"The present B&K site is in need of modernisation. The proposed development will provide modern buildings that will be more conducive to providing suitable environmental enrichment for their animals."
One of the organisations campaigning against the plan is the Beagle Association, which promotes the welfare of the breed. It has launched an online petition on its website.
Joan Leonard from the association said that the dogs should not be kept in such surroundings.
"To put a dog like that in a pen is cruel. We feel they should be in family units and have access to the outdoors for mental stimulation," she said
"They're a bright, intelligent dog. They shouldn't be kept like that."
No date has yet been set for the planning hearing.
Campaigners said if the expansion was approved they would mount protests outside the breeding centre.