Hull child road casualty rates fall 75%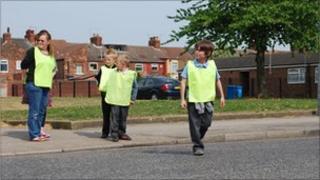 The number of children killed or injured on Hull's roads has fallen by 75% in 20 years, figures have revealed.
Hull City Council said 46 children aged under 16 were killed or injured in 2010 compared with 183 two decades earlier.
The council said its child pedestrian training course had helped to improve awareness of road safety.
Sue Boyson, the road safety officer at Hull City Council, said the course taught essential skills.
She said: "Stop, look, listen and think about things is the basics of safety.
"This is basic pedestrian training, which is designed to give seven and eight year olds the skills that are necessary for life."
The number of casualties has been steadily declining since the course launched in city schools in 1992, the council said.
Ms Boyson said: "We discuss with pupils the safe places to cross the road, the dangers and the consequences of when we don't cross safely.
"We then practise these skills outside, showing the children how to cross on the different types roads."
Global campaign
Paul Goodwin, the head teacher at Buckingham Primary School in Hull, said the training programme had had a positive impact on pupils at his school.
"After the children have had their training you can see a notable difference in how they cross the road.
"I know parents [teach them] all the time; they do a fantastic job, but this is just reinforcement within school and especially when they're around their peers."
The figures come ahead of the launch of a new global road safety campaign, which is being backed by the UN Secretary-General, Ban-Ki-Moon.
The Decade of Action for Road Safety aims to reduce accidents and promote safety among all road users.