Hull remembers the Blitz 70 years on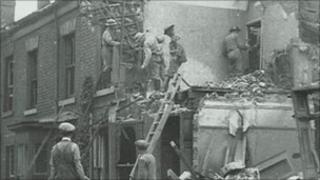 During World War II, Hull was the second most bombed city in England, with 90 per cent of its buildings damaged.
Seventy years on from the worst air raids to hit the city, those who experienced the Blitz still have vivid memories of the bombing.
Survivor Denis Grout recalled the scene after a heavy raid.
"It looked as if a big part of Hull was on fire," he said.
"When we came back, Kathleen Road was gone."
In the short time between 7 and 9 May 1941, German air raids killed 420 people.
The city became a prime target for bombing due to it being an industrial centre and a strategic port.
'Thud of bombs'
Having grown up near the railway, Mike Ulyatt said he had a clear memory of the raids.
He said: "I remember the thud of bombs as they dropped and the screams of people. There was bomb damage practically every night."
More than 86,000 houses were damaged, and by the end of the war, 152,000 people had been left homeless.
Despite the destruction, the children living amongst the rubble adapted to their changed environment.
Mr Ulyatt said he remembered trading items found in the rubble.
"None of us were frightened," he said.
"To most of us it was a big adventure, collecting shrapnel, because you could swap any amount of shrapnel," he said.
"If you got parachute silk you could swap that for 10 marbles. So you were a hero if you took a lot of shrapnel into school."
Memorial plans
In total, 82 air raids left their mark on the city and its people, but at the time, Hull received little recognition for the damage it sustained.
When air raids were reported in the media, it was often only referred to as a town on the North East coast.
German bombs left a lasting scar on the landscape, and there are hopes that a crumbling building could provide a fitting memorial to the civilians who lost their lives.
The National Picture Theatre in Beverley Road was destroyed in an air raid, but the World War Memorial Trust now wants to turn it into an education centre with plaques for the 1,200 people who lost their lives in the raids.
Trust secretary Alan Canvess said: "We would hope that it would be a commemoration to those who died and a fitting tribute to those who served on the Home Front in Hull and nationwide."