Hull City Council: Labour wins control from Lib Dems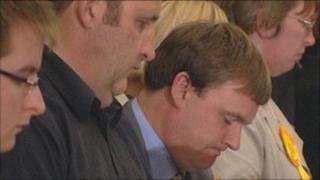 Labour has taken control of Hull City Council from the Liberal Democrats.
The Lib Dem leader of Hull City Council, Carl Minns, has also lost his seat to Labour.
Labour won 34 seats, up 11 on the previous election, while the Lib Dems took 22 seats, 10 fewer than last time. The Conservatives still hold two seats.
Mr Minns had earlier held a news conference at which he said he would be "gobsmacked" if Labour did not make significant gains in Hull.
'Something seismic'
Labour's Hull West and Hessle MP Alan Johnson said it was "extraordinary" that Mr Minns had conceded defeat before the votes had been counted.
"There is a feeling around here that something seismic is happening in Hull," he said.
Asked why voters had rejected the Lib Dems, Mr Minns said: "It's multiple reasons, it's not one reason; national circumstances, local decisions and a couple of areas of probably bad long-term campaigning on the ground.
"[The incoming Labour group] has made a lot of rash promises and now it's got to try and deliver them with less money.
"At the end of the day I'd like more money not to cut services, but the bottom line is the bottom line and when you're a council leader, you have to deal with things as they are not how you'd like them to be."
Conservative gains
Meanwhile, the Conservatives have strengthened their hold of East Riding of Yorkshire Council.
The party gained eight seats to 53, while Labour won an extra three and now have six councillors. The Liberal Democrats lost ten seats, dropping from 13 to three.
Conservative leader Stephen Parnaby described the gains as "phenomenal".
The Conservatives have also claimed victory in North Lincolnshire having gained the authority from Labour although no single party has overall control.
The Tories now have 23 councillors compared to Labour's 20. The Liberal Democrats have no councillors at all.
North East Lincolnshire Council remains under no overall control, although Labour has overtaken the Conservatives as the party with the most seats.
It gained seven seats to 19, while the Tories lost one seat and now have 14 councillors. The Lib Dems also took a hit, dropping from 14 to nine seats.
The national alternative vote referendum has also taken place, the first nationwide referendum since 1975.