Spurn Point plays host to the region's remotest party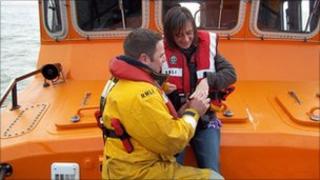 The lifeboat crew at Spurn Point held Yorkshire and the Humber's most remote royal wedding street party.
Based at the mouth of the Humber Estuary, the station is home to the UK's only full-time RNLI boat.
The crew and their families live together in a small cluster of houses at the tip of the peninsula.
The day was extra special for one crew member, Jason Ebison, who proposed to his girlfriend, Sarah Johnson, on board the lifeboat.
Mr Ebison said that he wanted to have the other crew members involved in his happy day.
"It was important to propose on the lifeboat as I've done it for 23 years and it's just part of me," he said.
"The lads said they were up for it."
He added: "We went down on to the boat and just went down off the point.
"We stopped the boat. We all gathered round and I went down on one knee and proposed."
After the surprise proposal, the crew and their families watched the royal wedding ceremony from Westminster Abbey and then gathered in the street for food and games.