Upgrading the A63 road in Hull 'is vital for city'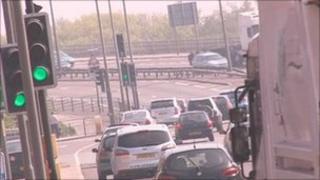 An East Yorkshire MP is to meet the transport minister to try to secure funding for road improvements to boost Hull's economy.
Labour MP Alan Johnson is to meet Philip Hammond to discuss improvements to the A63 and Castle Street area.
The move comes after technology firm Siemens said in January it would invest millions of pounds to build off-shore wind turbines at the port.
The city's Chamber of Commerce has said upgrading the road is vital.
Richard Kendall, the head of policy at Hull and Humber Chamber of Trade, backed the MP's stance and said improvements were crucial.
He said: "It's hugely important we get this sorted, it's a critical road in and out of Hull and without it being improved we'll really struggle to get any serious development going.
"The pressure has been off over the past couple of years because of the state of the economy, but the more developments we get and the economy picks up, the more pressure there will be."
Work postponed
Mr Kendall said the planned arrival of the off-shore wind turbine facility meant a great deal to the city and although traffic flow had not hindered development, it could become an issue.
He added: "We're not at the stage yet where it [the A63 improvements] is a barrier to any development happening but if we do get any serious amount of development happening then Castle Street area of the A63 will be a real problem."
In February 2010 it was hoped a stretch of road along the A63 from Porter Street to Myton Bridge was to be widened to ease congestion in the city centre.
Work on the £5m scheme was expected to start in 2012 but it has been postponed by the regional transport board.
The board had said the project in its current form did not offer enough value for money and would have a low impact on the region as a whole.