Hull starts scheme to tackle high youth unemployment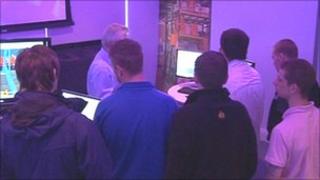 A new training initiative in Hull aims to tackle the city's higher than average levels of youth unemployment.
The University of Hull is opening up its facilities to groups of young people who are struggling to find work or training.
According to Hull City Council, 850 young people are currently categorised as being Not in Education, Employment or Training (NEET).
The figure is 11% of the city's 16-18 year olds - the UK average is 8.5%.
Youngsters from the youth education and training project, Cat Zero, are being taught industrial roles using computer simulation technology, which is run by the university's Logistics Institute.
Peter Tighe, from the CatZero Project, said: "This is a fantastic opportunity for the young people of the city to have a look at logistics and get the use of the simulators that generally young people can't actually access.
"It's also building upon the opportunities that could be happening in the city for the future."
Many of the youngsters underachieved at school and, through the training scheme, are now showing potential as crane operators and forklift drivers.
Ryan has been unemployed for more than six months. He said: "This is helping me think, maybe I could do this because I'm enjoying it and I seem quite good at it."
"It's a really good place to help you learn how to drive cranes, if you want to go into that."
Plans were recently announced for wind turbine factories on the north and south banks of the Humber, as well as a 2,000-acre logistics park in North Lincolnshire.
If approved the region could see thousands of jobs created in the transport and renewable energy industries.