Humber ferry hopes to sail again after £3.5m rebuild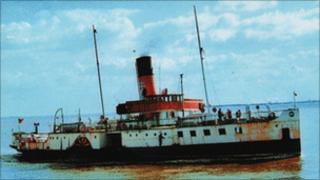 A preservation group is aiming to restore a dismantled Humber ferry and use it again as a passenger service.
The Lincoln Castle has been bought by the society and is being rebuilt in a £3.5m project.
The boat was cut up for scrap last year. The group had to buy the pieces bit by bit after failing to agree a deal with the ship's owner to buy her intact.
It is hoped the ship will be offering trips to the public from summer 2014.
The 70-year-old paddle steamer transported passengers and vehicles from Hull to Lincolnshire, until the service was closed after the opening of the Humber Bridge in 1981.
After retirement, the Lincoln Castle spent its time moored in various locations across the region as a bar and restaurant.
It ended up disused and derelict in a Grimsby dockyard.
Stephen Sharpe is the chairman of the Lincoln Castle Preservation Society, which is attempting to raise the money for the rebuilding.
Mr Sharpe said the group was formed to try and rescue the boat after he learned it was being dismantled.
He said "If you've got a unique piece of history like that, you can't go about cutting it up."
The boat will be rebuilt in a city dockyard using the original blueprints.
The salvaged parts will be fitted on a newly-constructed steel hull.
The group said it hoped the ship would earn its keep as a venue for weddings, parties and conferences, as well as providing scheduled trips along the Humber.