Remote health check computers launch in East Yorkshire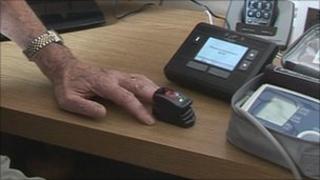 New technology that monitors the health of chronically ill patients at home has been introduced in East Yorkshire.
The Telehealth computers check peoples' vital signs and send data to medical staff, who can intervene if necessary.
So far 50 machines have been rolled out at a cost of £2,000 each, and another 110 are planned, said East Riding of Yorkshire NHS Trust.
The number of emergency hospital admissions among people using the system has fallen by 50%.
'Saves running about'
Peter Towse, from Nafferton, said the system had helped him deal with his chronic lung disease.
"If I need a doctor or nurse I can get in touch with them, or they can get in touch with me if the stats aren't right.
"It saves them running about and it saves me running about," he said.
Community nurse Jackie Roberts said patients using the computers were still visited regularly.
"Telehealth just means we don't have to come and intrude on their privacy as much as we would usually do," she explained.
East Yorkshire NHS hopes that the system will eventually save them about £500,000 through reduced hospital admissions.