Scunthorpe housing estates to get hidden CCTV cameras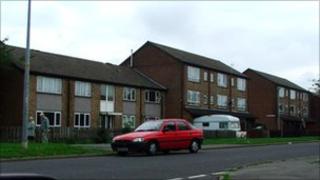 A housing association is installing covert CCTV cameras on a Scunthorpe estate in an attempt to stop vandalism.
North Lincolnshire Homes said the move was prompted by complaints by tenants about increasing anti-social behaviour.
A pressure group that campaigns against CCTV cameras said the move would not reduce crime and labelled the cameras a "placebo".
If successful, the cameras will be introduced at the association's other housing complexes.
The mobile units will be hidden in light fittings, doors and walls on the town's Westcliff estate. They will be moved about to target crime hotspots.
They are part of a package of measures, which include a dedicated Humberside police officer to patrol the estate.
Jackie Buchanan, North Lincolnshire Homes neighbourhood co-ordinator, said the area was chosen due to the increased level of vandalism.
She said: "We've had quite a lot of anti-social behaviour issues in the estate, and we've had quite a lot of complaints received from our current tenants.
"They'd like to see us doing something about it. So, therefore we decided that CCTV in some of the areas may be the best way forward."
She continued. "We hoping to achieve a better place for the tenants to be living in. A safer area and to give them piece of mind."
Daniel Hamilton, director of Big Brother Watch, an organisation that campaigns on the issue of privacy, said the money could be better spent on increasing police patrols and lighting, rather than on cameras.
"It's obviously important that people feel safe in their communities. But, I think what is far better is people are actually safe and that anti-social behaviour is actually genuinely driven out.
Mr Hamilton said that CCTV had its uses in combating crime, but argued it was inappropriate in this case.
He said: "We'd simply caution against the example of North Lincolnshire where CCTV cameras are being used as a panacea, being used as the ultimate solution to the problem of anti-social behaviour, when really they are very ill equipped to do that."