Saltend biofuels workers march in Hull city centre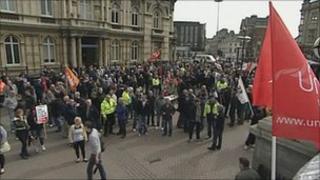 Hundreds of former workers at a biofuels plant have held their biggest protest so far against the cancellation of their contracts.
Redhall Engineering Solutions (RES) employees lost their jobs at Saltend Chemicals near Hull earlier this month after the project fell behind schedule.
More than 400 workers were locked out of the site, owned by Vivergo Fuels.
They marched through Hull city centre on Monday and urged Redhall workers at other sites to join them.
Humberside Police said extra officers were on duty "to ensure the event passes off peacefully".
The march started in Queen Victoria Square at 1130 BST, passing through Alfred Gelder Street and George Street, before returning to the square at 1300 BST.
Motorists warned
Ch Insp Darren Downs said: "Everybody has the right to freedom of speech and lawful protest and our role is to ensure protesters and other members of the public remain safe throughout the course of the event."
Police advised motorists to avoid the roads around the Saltend site and closed some roads on Monday because of possible further demonstrations.
Previous action by the workers had caused traffic problems in the Staithes Road/A1033 roundabout area, Hedon and the Hedon bypass.
Meanwhile, Vivergo have closed the biofuels site for a period of assessment and are looking to continue work on the plant.
In a statement, Vivergo said Redhall was responsible for the management of their employees.
At the beginning of last week, Redhall offered the workers a £3,000 redundancy pay-off, but this offer was refused.