Beverley Art Gallery holds death row artist exhibition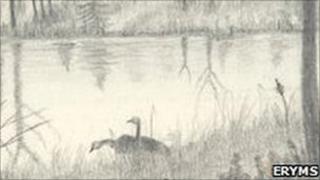 Beverley Art Gallery is displaying the work of a prisoner awaiting execution in the USA.
Robert Butts was sentenced to death for the 1996 kidnapping and shooting of a man in a supermarket car park in Georgia.
For the past few years the 34-year-old convict has been corresponding with Dorothy Knott, a woman from Pocklington.
The exhibition features letters, poems and artwork sent to her from his cell.
Ms Knott started corresponding with Butts after seeing an advertisement in a magazine for a charity that organises pen-friends for prisoners awaiting execution in the USA.
She said that despite their very different backgrounds they have found shared interests.
"It was really feeling our way to what we have in common. But it soon became apparent that he was very interested in art and he sent me some drawings and paintings."
One of the highlights of the exhibition is a collage made from weeds and leaves that Butts collected in the prison exercise yard.
Dorothy Knott is an opponent of the death penalty, which she describes as "barbaric".
She said she hoped the exhibition would give visitors an insight into the prisoner's life.
"I think if you go and see the exhibition and look at his art and read his letters you will see what kind of man he is."
Image courtesy of East Riding of Yorkishire Council Museums Service