Hull plant workers protest as contracts are terminated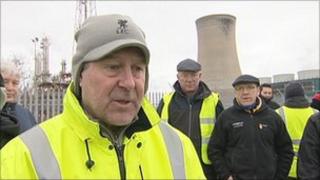 More than 400 employees at a biofuels site in Hull are protesting after their contracts were terminated.
Redhall Engineering Solutions (RES) employees lost their jobs at Saltend Chemicals near Hull after the project fell behind schedule.
The GMB union said Vivergo Fuels, which owns the site, should continue to employ the workers to complete the job.
Vivergo said the construction work was suspended while another company was found to take over the contract.
RES workers protested outside West Burton Power Station near Gainsborough, Lindsey Oil Refinery in North Lincolnshire and outside RES offices in Middlesbrough in support of the Saltend workers.
'Behind schedule'
The construction workers had been building the biofuel production plant, which will turn wheat and sugar beet into fuel.
The GMB said the dispute arose when workers were not transferred to a new contractor to complete the job.
Vivergo said no new firm had taken over the RES contract and therefore there were no jobs for the workers to be transferred to.
Keith Gibson, from GMB, said: "Vivergo finished because of financial reasons, at the same time the job is running a year behind schedule and the workforce building it for them have been blocked off the job.
'No work'
"The job's going nowhere. There is four to six months work outstanding and we want to go back and finish that job."
RES said the workers were offered £3,000 compensation but this was rejected by the unions.
It said it remained sympathetic to the workers and was in negotiations to sort out the situation and ensure the workers' rights were protected.
Vivergo Fuels issued a statement saying they had cancelled the mechanical and piping works contract because the works "should have been completed by February 2011" and the construction site at Saltend had been closed for a period of assessment.
The statement said: "New contracts will have to be placed in the future but at this stage there is no contractor identified or in place to complete the work. This is likely to remain the case for some time."